Food And Drink Copywriting Of The Week #4: Who Gives a Crap Delivery Box copy



(26 March, 2021)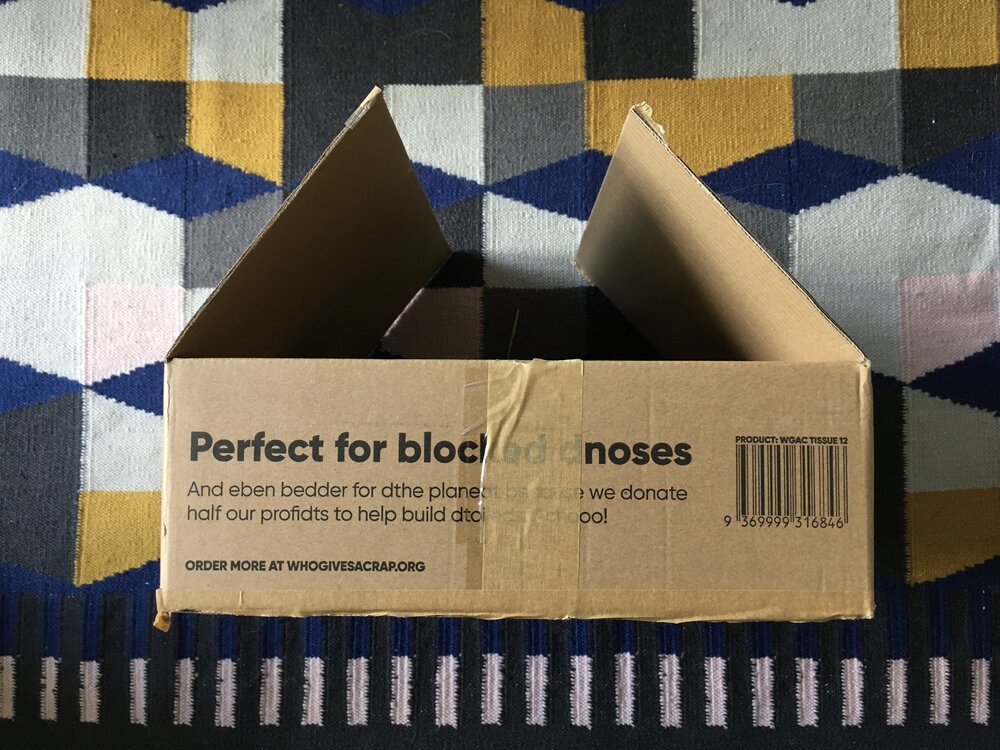 Welcome to the fourth instalment of
Brew Copy's Food And Drink Copywriting Of The Week.


In short, the idea is this:
I go into the world of food and drink and find examples of incredibly effective copy, from personality-driven brand voices, damn good package storytelling and effective e-commerce websites to sales emails and product descriptions. Then I break down what makes it so good so that you can apply it to your brand.
Simple.
Also, I'm going to start posting every second instalment here, on the world wide web. If you want to read every installment, sign up to my newsletter
HERE
.
Yes, I know, I know...
I haven't chosen a food and drink brand this week. I'm not planning on going outside the industry too much, but when I got my delivery of Who Gives a Crap tissues and read the copy on the delivery box, I couldn't help but talk about it. Besides, it might be a different industry, but that doesn't mean there aren't cross-overs when it comes to writing genius copy.
If you've been living in a cave
Who Gives a Crap is an Australian-based toilet paper company that donates 50% of profits to charities who build toilets for people who don't have them. More than just a great offering, they are market-leaders in marketing and writing damn fine copy. Few other brands write with such wit, intent and warmth. Maybe soon I will dissect some other areas of their copy. But for the meantime: delivery box copy, an area many brands overlook.
The copy
"Perfect for blocked dnoses: And eben bedder for dthe planeat because we donate half our profidts to help build dtoilets. Achoooo!"
Good writing is about showing, not telling. You're not going to turn many heads if you say you're trustworthy. On the other hand, list 10 testimonials and I'll come to that conclusion on my own. So the copy above does an amazing job at empathising with the customer's biggest pain point simply by imitating someone with a blocked nose. The result? Charming, funny, human copy that makes us every other tissue company seem like the brand-equivalent of being stuck in traffic.
The copy also uses the opportunity to champion the brand's difference in the market as well as further build trust by showing they give a crap and, in turn, aligning their values with their customers.
All this, in 21 words.
Lastly, don't forget they have achieved this on a delivery box, an area most brands use to stamp their name (ah-boring *cough*) or worse leave blank. Every tangible thing related to your brand is a storytelling opportunity. You send products in a box? Then use that wonderful cardboard canvas to further connect, delight, and champion your message.
Main take-aways
Treat your delivery box copy like your website copy — an opportunity for meaningful storytelling
Show, don't tell
Get creative, don't be hemmed in by thinking you have to be grammatically correct.
Understand your customer's pain points
Champion your difference in the market by aligning your values with those you aim to serve — meaningfully, of course, not as a positioning tactic.
Achieve brand loyalty by delighting your audience
Okay, that's a wrap
If you liked this Food and Drink Copy of the Week, sign up for the next one
HERE
.
Warmly,
Jayden O'Neil